INTERACTIONS BETWEEN ANTIBIOTIC RESISTANCE IN SOIL MICROBIAL COMMUNITIES AND COUPLED ELEMENTAL CYCLES
Antibiotic usage is widespread in the livestock industry and this has recently raised concerns because of its potential to increase the prevalence of antibiotic resistance genes in the environment. While this may have direct consequences for human health and well-being, exposure to antibiotics is also likely to lead to change in the soil microbial community and the ecosystem processes that these communities regulate, such as carbon, nitrogen, and phosphorous cycling. Through funding from the USDA, we are examining the linkage between antibiotics, microbial communities, and elemental cycles using a stress-physiology framework.
This research is supported by Agricultural and Food Research Competitive grant no. 2013-67019-21363 from the USDA-NIFA.
VOLATILE ORGANIC COMPOUNDS RELEASED DURING LITTER DECOMPOSITION AND THIER RELEVANCE TO SOIL ECOLOGY
Biotic volatile organic compound production are often thought of as a process carried out by living plants. However, recently it has been shown that VOCs are produced and consumed during leaf litter decomposition. These VOCs could serve as an important component of microbial biomass and potentially carbon sequestration in the soil. I am currently using three of the most common VOCs produced during litter decomposition to determine where the carbon in the VOCs go, using a pulse-chase experiment.
This research is supported by the National Science Foundation under award number 1555931.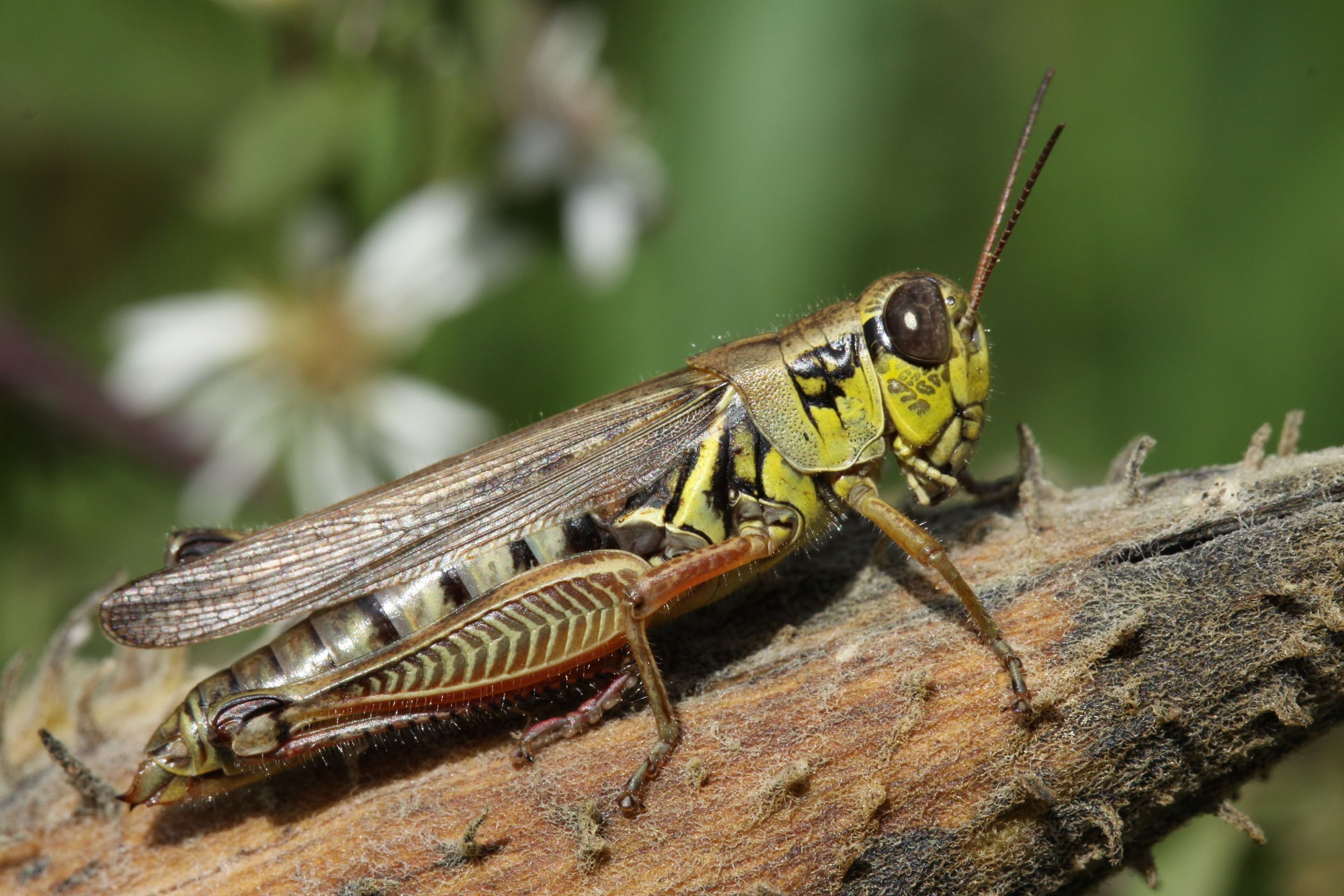 IS A DIVERSE GRASSHOPPER COMMUNITY BENEFICIAL TO THE HEALTH AND FUNCTIONING OF RANGELAND ECOSYSTEMS
Sustainable grazing systems depend upon healthy, functioning rangeland ecosystems. Grasshoppers are an important, native component of these rangeland systems, but they compete with livestock for forage. Grasshopper outbreaks often trigger chemical control measures with the use of broad spectrum pesticides that kill insects indiscriminately. However, most grasshopper species are not pests and may actually be beneficial. Individual grasshopper species can increase primary production, nutrient cycling, and influence soil microbial communities. However, the role of grasshopper diversity on rangeland ecosystem processes is unknown. Furthermore, we do not understand how environmental factors like productivity mediate these responses. Our long-term goals are to determine: (1) the role of grasshopper diversity in rangeland ecosystems and (2) how the effects of grasshopper diversity vary with primary productivity. Here, we propose a seed grant to: (1) examine the effects of grasshopper species and functional richness on rangeland ecosystem processes (decomposition, microbial communities, nutrient cycling), with a manipulative, 2-year field experiment, and (2) collect baseline data on plant and grasshopper communities along a latitudinal gradient. We will use these data in a future USDA proposal examining the role of grasshopper diversity to rangeland ecosystems along a latitudinal gradient. Our research will lead to better understanding of the role of grasshoppers and grasshopper diversity in rangeland ecosystems. This will provide information on insect-plant interactions, mechanisms of plant responses to insects, and improved biologically-based grasshopper management approaches.
This research is supported by Agricultural and Food Research Competitive grant no. 2016-67014-25257 from the USDA-NIFA.
QUANTIFYING SOIL HEALTH: MEASURING THE IMPACTS OF TILLAGE & COVER CROP PRACTICES ON NUTRIENT RETENTION, & SOIL PHYSICAL, BIOLOGICAL, & CHEMICAL PROPERTIES
Modern agricultural practices, such as monoculture cropping systems and mechanized tillage, have resulted in widespread soil degradation, erosion and biodiversity loss. The resultant degraded, "unhealthy" soils require increased inputs such as fertilizers and irrigation in order to maintain productivity. In recent years, however, proactive agricultural producers, extension agents and agencies have worked together to develop management methods such as cover cropping and conservation tillage that restore, maintain or improve the health of agricultural soils, thus reducing production inputs and improving soil properties. The overall objective is to increase the acreage of land that is being managed with conservation tillage including no-till and multi-species high-residue cover crops, by demonstrating and quantifying the physical, chemical and biological properties of soils managed under conventional tillage, conservation tillage and conservation tillage with high-residue multispecies cover crops. This project will incorporate several innovative strategies to increase the awareness and practice of soil health management tactics, building on a legacy of interrelated investigation, outreach and extension.
This research is supported by a conservation Innovation Grant (grant no. 69-3A75-14-260) from the USDA-NRCS.